Local authorities have a statutory duty to provide accommodation and care for young people that are looked after until 18 years, and to provide support to care leavers up until 25.
The cost of accommodation represents one of the highest challenges to local authority budgets and often with little evidence of achieving good outcomes for the young people.
Improved outcomes and reduced costs
The House Project approach provides intensive support and with the development of a community of support, it replicates the principles of 'staying put' and 'staying close'. With skilled and experienced staff, the project provides a safe step down from residential/foster care, allowing their support to be provided at lower costs.
House Projects deliver improved outcomes and with no placement breakdowns to date, improved emotional, physical, and mental health and less contact with criminal justice services it reduces the demand on wider local authority and partner agency budgets.
My role of a corporate parent is to support our young people into independence. The House Project will help me do that... in my view the house project will have many direct benefits for the young people, not least the fact that they will own and drive the project.
Emma Bennett - Director of Childrens Services, Wolverhampton Council
How does the LHP save money?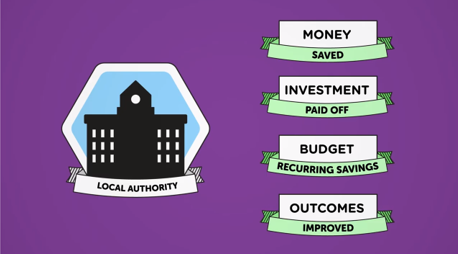 The principal cost to the local authority is the establishment of the team. In the first year staff are
recruited to establish the project and work with young people on the House Project Programme.
Young People move into their own properties as soon after their 17th birthday as is appropriate to
them and continue to be supported by project staff and other young people from their cohort.
This means that placement costs for these young people are avoided and the savings are greater
than the projects costs resulting in significant savings to the Local Authority.
The outcomes for young people are improved and the local authority avoids the placement costs
that would otherwise have been incurred.
Interested local authorities have an initial discussion with the National House Project and both parties agree that establishing a House Project is right for them.
Find out more...