A message from our CEO July 2022
Posted 1st July 2022
I have always felt humbled and privileged to be working with young people leaving care. They are hugely supportive of each other and selflessly give of themselves to make the system better for others. I was reminded of this at the recent CLNM meeting when a young person explained that her reason for wanting to be involved was to make it better for 'my sister and others'. This commitment to changing the system brings real responsibilities for the Charity and we have to ensure that the platform and the framework of support is in place to harness this energy and vitality in a way that makes meaningful change. We develop new ways of working with Local House Projects across the country and to truly improve the experience for others we need these new ways of working to be the catalyst for systemic change across the sector.
We were keen to read the recommendations of the Independent Review of Children's Social Care and whilst its breadth and brevity limited its focus on the care system, some of the missions resonated with our approach to working with young people. I will deliberately not reference in detail the wording of the missions but will refer to the issues of building relationships and preventing homelessness.
Whilst I understand the messaging behind having two 'loving relationships', this will be difficult to define and moreover could be diluted in order to meet what I suspect will become yet another performance indicator. The House Project approach is relational and supports young people to build relationships with each other, with staff and with the communities where they live. Young people consistently report that they feel that they 'belong' and that they are 'part of a family'. They rarely say that they are loved and many would baulk if people were to describe the incredibly intuitive and often unconditional support that they provide each other as 'loving'. When they talk about having 'mates' they see their peers as having their backs and being there to share their good news with. These relationships are forged through the shared experience of leaving care together and it is the joint activity of sharing new experiences, dealing with similar issues and being there for each other through the very real anxiety and elation of moving in to your own home. A recent reunion of HP10, the very first House Project from 2015 evidenced the strength and enduring nature of these relationships and it is therefore our commitment to developing peer relationships that are not challenged by the professional relationships that are encouraged by independent visitors and advocates. It is absolutely right that care experienced adults should have meaningful relationships and, in accepting that, greater focus should be given to developing friendships through the care leaving experience alongside ongoing relationships with the adults who have mattered to them growing up, including social workers, PA's, foster carers and residential staff.
Who would not want to end homelessness for all, let alone for care leavers. Whilst there is merit to tinkering with the system to change the age profiles for various approaches we have to avoid the process of changing the age at which care leavers experience the 'care cliff.' My reflections four years after leaving my role as an Assistant Director of Childrens Social Care is that so much focus is given by the system to safeguard young people, and so little resource is given to supporting young people to develop the skills, knowledge and confidence to live fulfilling lives as adults. One young person describing his experience of growing up in the care system said that he was 'not allowed to go to the shops by himself until he was 16 but at 17 was expected to live by himself and manage his own home'. The system, and the people within it, need to be liberated from the risk averse approach that inhibits personal growth and confidence and should be supported to develop a risk aware culture where young people are provided with the experiences and opportunities that support them in to adulthood. The House Project approach cannot provide everything that young people need but through its psychologically informed practice framework (ORCHIDS) it supports young people to grow and develop and if the sector is committed to ending homelessness a greater focus on preparing and supporting young people to live lives after being in care is needed.
As well as ensuring that we support young people in our House Project Community to improve the leaving care experience we are committed to translating the recommendations in to meaningful ways of working that can be adopted across the sector.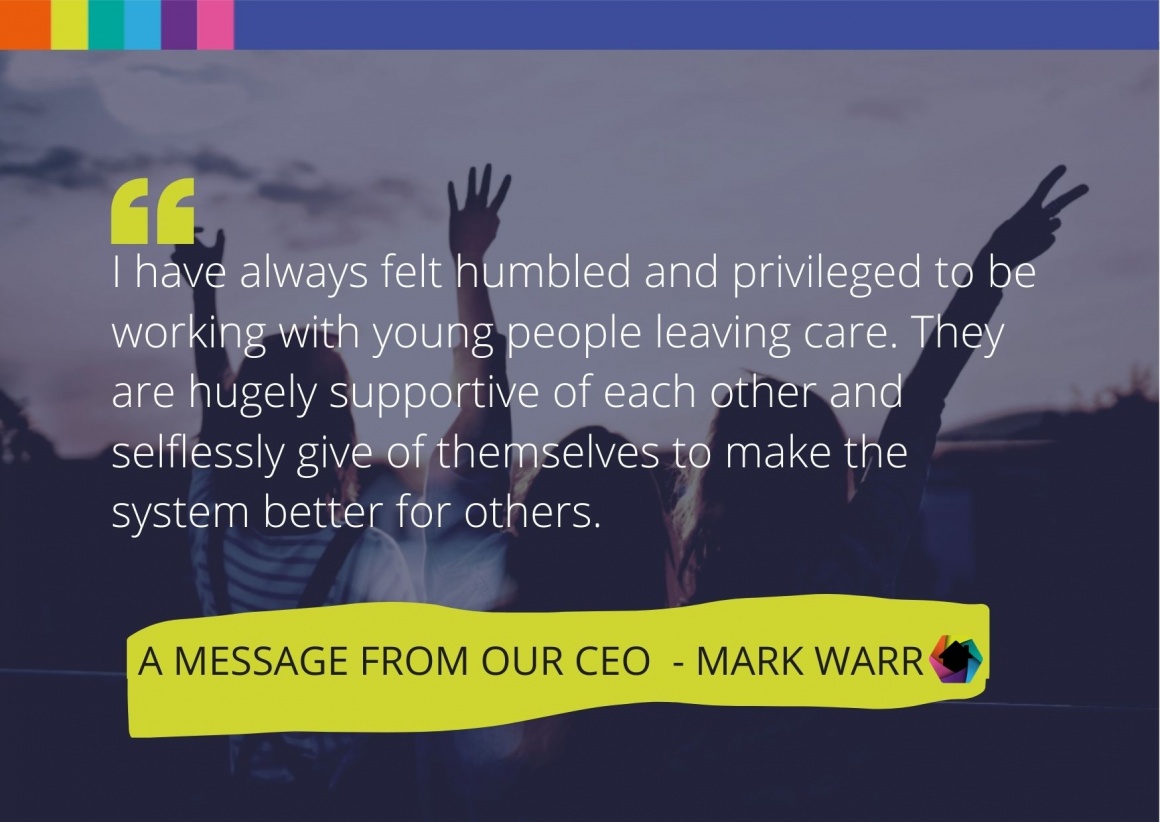 SHARE THIS ARTICLE