Exciting Job Opportunity: We are looking for a Participation and Development Worker
Posted 16th December 2019
The House Project takes a ground-breaking approach through its commitment to young people's ownership to enable young people leaving care to achieve successful independence. The Project was co-designed with young people from the start and works on cooperative principles through which adults and young people in and leaving care work together to refurbish properties that become their homes and build a long-term community of support.
The NHP supports Local House Projects to put young people at the centre of the decision-making processes, challenges staff to work with them in an inclusive way and encourages staff to support young people to find the solutions to the challenges they face. The projects achieve improved outcomes for young people, challenge the way that professionals work with young people and enable young people to leave care in a supported and 'less scary' way.
To ensure that young people are involved at every level of the organisation we have a young people's steering group (called the Care Leavers National Movement) where each Local House Project is represented by two young people. Two members from this group sit on the Board of Trustees as expert advisors.
We are looking for someone who is motivated and experienced in working with young people in care to join this national charity. You will work with the Care Leavers National Movement as well as the core NHP team to ensure that young people continue to drive the project on both a local and national level.
You will need to be care experienced and have a professional/academic qualification in a related field e.g. Youth Work; Social Work; Education, Health. Current registration with a professional body is desirable.
You will be based at the NHP office in Crewe, but you will be expected to travel to Local House Projects and attend meetings across the country on a regular basis.
Hours: Full time 37.5 hours. Flexible, and to include evenings and weekends.
Salary: £42,000 per annum.
Contract duration: Permanent.
Location: The normal place of work is Couzens Building CO3A, Crewe Green Road, Crewe, Cheshire, CW1 5DU but you will be expected to travel to Local House Projects and attend meetings across the country on a regular basis.
Closing date for applications: Monday 6th January 2020, 9am.
Notification of interview: Shortlisted applicants will be notified no later than Wednesday 8th January 2020.
Interviews: Interviews will be a two stage process with young people on Saturday 18th January 2020 and NHP staff on Thursday 23rd January 2020.
How to apply: Please send your CV and a covering letter explaining what you can bring to the role and why you believe you can fulfil the requirements of the job as outlined in the job description and person specification to enquiries@thehouseproject.org
The Charity is an equal opportunities employer and welcomes applications from all members of the care experienced community.
The successful applicant will be required to undertake an enhanced Disclosure and Barring Service (DBS) check.
For further information please contact Sue Hammersley, Director on 01270 215888 or sue@thehouseproject.org
Job Description and Person Specification – NHP Participation and Development Worker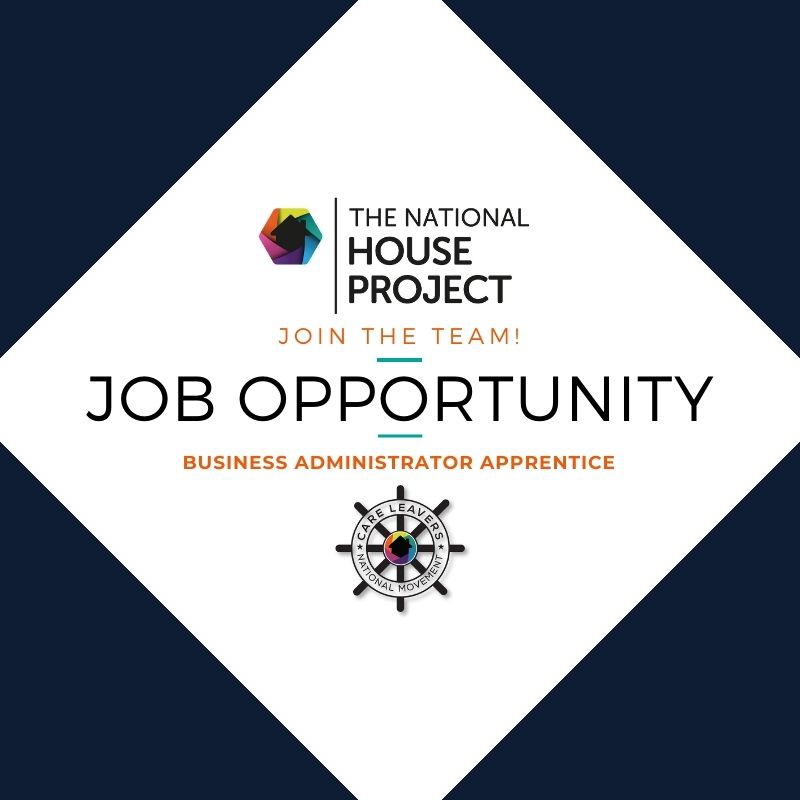 SHARE THIS ARTICLE