A message from our CEO - June 2020
Posted 1st July 2020
Dear all
Whilst the events of the last few months have challenged the ways of the world, it has made us ever more committed to change the way that young people are supported to leave care. We have developed new ways of working but have equally been reminded that whilst value based practice with staff going the extra mile was the old way of working, it has continued through the pandemic and will be the bedrock of working with young people in the House Project community going forward.
We are now working with eight Local Authorities (LAs) in England and are delighted to have started with the first of three LAs in Scotland (in conjunction with Life Changes Trust) with the other two projects commencing next month. Our community of young people has risen to 156 and of the 81 who have completed the House Project Programme (HPP) to date, 69 are living independently. During the last three months of lockdown five young people have moved into their properties – no mean feat under the circumstances and great credit to the young people and project staff involved. We are aware that plans for some have been out on hold but with the easing of lockdown more excited young people will be viewing properties, doing them up and getting the keys!
Our four year business plan to 2024 highlights that a further four projects are to be established this year if we are to meet our target, and in addition to ongoing discussions with 16 LAs we have had zoom meetings with a further five interested LAs during the current lockdown period. In addition to scaling by number of projects, we are also discussing inward scaling with two LAs who have seen the positive outcomes achieved by their young people and want to consider the House Project approach for their wider children in care and care leaver services. We have taken the opportunity over the last few months to review, revise and repurpose what, and how, we do things. Microsites have been established for the projects with the launch of the Wolverhampton LHP website being picked up by the Birmingham Mail and Express and Star print press. The Care Leavers National Movement (CLNM) website has been redesigned and the NHP website is being updated. The House Project Programme has been further developed and whilst work is ongoing we have had the first AQA awards accredited to young people, which is a considerable milestone on the journey to make the HPP the next Duke Of Edinburgh Award!
Relationships and connections are as key to the staff as they are to young people and Community of Practice meetings have continued, albeit digitally. Staff have continued to share best practice and projects are updated on NHP developments. Projects continue to receive individual online digital support from Sue and Kelly. We are delighted to welcome Mark Leith and Mike Hodgetts as Trustees and we are about to recruit for a care experienced Trustee.
Whilst we can see and measure the impact directly on young people we were pleased that this was reflected in a recent Ofsted inspection
'The House Project is an innovative and highly valued service that is making a significant difference for care leavers. The service helps young people to build confidence and to make friends for life, through preparation for independence and the provision of secure and affordable accommodation. Young people said to inspectors that being involved in the project makes them feel like they have a family'
This is a powerful statement and the sense of 'having a family' really highlights the connections and relationships that are made and marks the NHP approach out from other accommodation/housing options for care leavers.
I started this article by saying that lockdown had made us ever more committed to change the way care leavers are supported. The CLNM discussion in February on digital poverty was brought into stark focus during lockdown and the energy and commitment of founder members, and new members elected in April, to make a difference on a national level is amazing. Whilst providing the driving force it is important that NHP provide the infrastructure to enable the strategy to be achieved and we are working with DfE, Care Leaver Covenant and other Charities and engagement and participation forums to that effect. Mark Riddell, National Adviser for care leavers is a supporter of the Charity and is keen to support the CLNM aspirations.
We are ever appreciative of the involvement of supporters who contribute on a number of levels and whilst we have a positive partnership with Reconomy we are pleased to be working with Donal Insall Architects and Changing Minds who in addition to their valued inputs have also donated to the Digital Poverty Campaign.
It is fitting to end this article by recounting a recent experience with the Manchester House Project who had their young people 'pitch' in the presence of the Director and Assistant Director of Children's Services. Whilst being nervous of both the occasion and the experience of being on zoom the young people did a fantastic job. As part of the pitch one young person articulated that she wanted a House project as she wanted the security of a home to be able to study to become a doctor. I have every confidence she will achieve it. Whilst not everybody will share her aspiration it is undoubtedly the case that the House Project approach helps them to believe in themselves and gives them hope for their future. The projects provide the scaffolding to support them to achieve their ambitions.
Hoping that you all stay safe and well.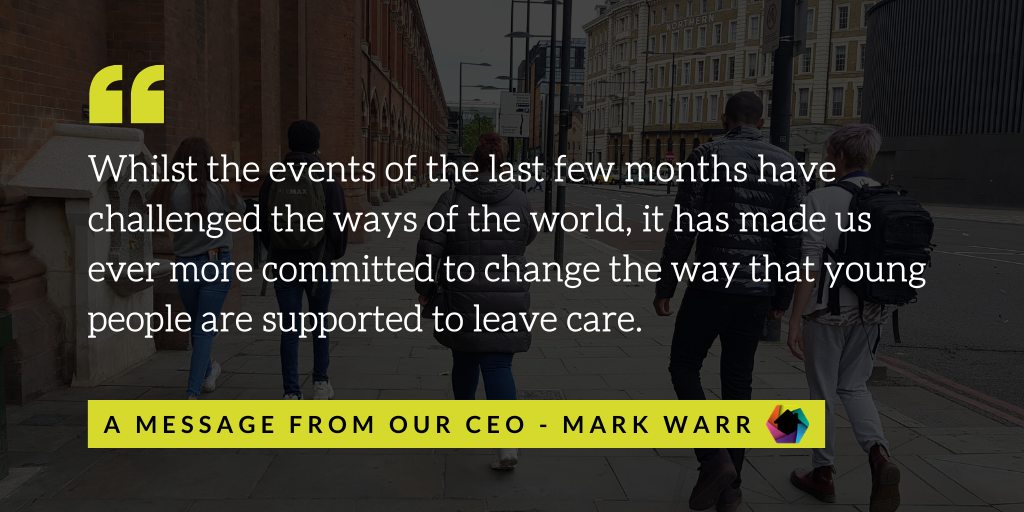 SHARE THIS ARTICLE